Contributor
This chapter was written and developed by Ricardo Barros
Support Vector Machine (SVM)#
This tutorial features the Support Vector Machine (SVM) technique for classifying riverbed morphology types as a function of hydraulic and sediment transport data.
Goals
Pre-process a dataset containing hydrodynamic measurements and five river bed morphology classes according to Montgomery and Buffington [MB97].

Use Variance Inflation Index (VIF) to evaluate Multicollinearity among features.

Train and test a Support Vector Machine (SVM) model to classify river bed morphology using a Radial Basis Function (RBF) kernel.
Requirements
Read and understand data handling with NumPy, Pandas, Matplotlib, and functions. We assume that you are familiar with basic statistic parameters, such as Gaussian probability distributions, their mean, and their standard deviation values.
Enable interactive reading and executing code blocks with
and find morphology-predictor-svm.ipynb Alternatively, install Python and JupyterLab locally and download this Jupyter notebook.
Theory#
In the field of restoration science, the identification of river morphology provides essential insights, for instance, to guide target terraforming aiming at re-instating a near-census natural state of a fluvial landscape. In addition, morphological pattern may serve as a predictor for estimating fluvial sediment transport and vice versa. Thus, there is a bidirectional relationship between fluvial hydraulics, sediment transport, and morphological pattern, which represent physical habitat for aquatic species and may even affect energy production [RPVTP16].
Yet, classifying and predicting fluvial morphodynamics is challenging because of the complexity of river ecosystems and every river being a unique environment. However,there are repeating morphological units of rivers with similar characteristics. A basic set of repetitive morphological features was introduced by Montgomery and Buffington [MB97], and we will focus in this tutorial on the following five morphological units (click on the items to read more):
These morphological units can be found in the above-listed order along a river, starting at the source and ending with its estuary. Thus, step pool units can typically be found in upstream (mountain) river section, while sand beds are predominantly existent in shallower river sections, close to estuaries or confluences. Note that there are many other morphological units besides, such as slackwater, swales, or bars [WP14]. Fig. Fig. 223 illustrates some morphological units of near-census natural rivers.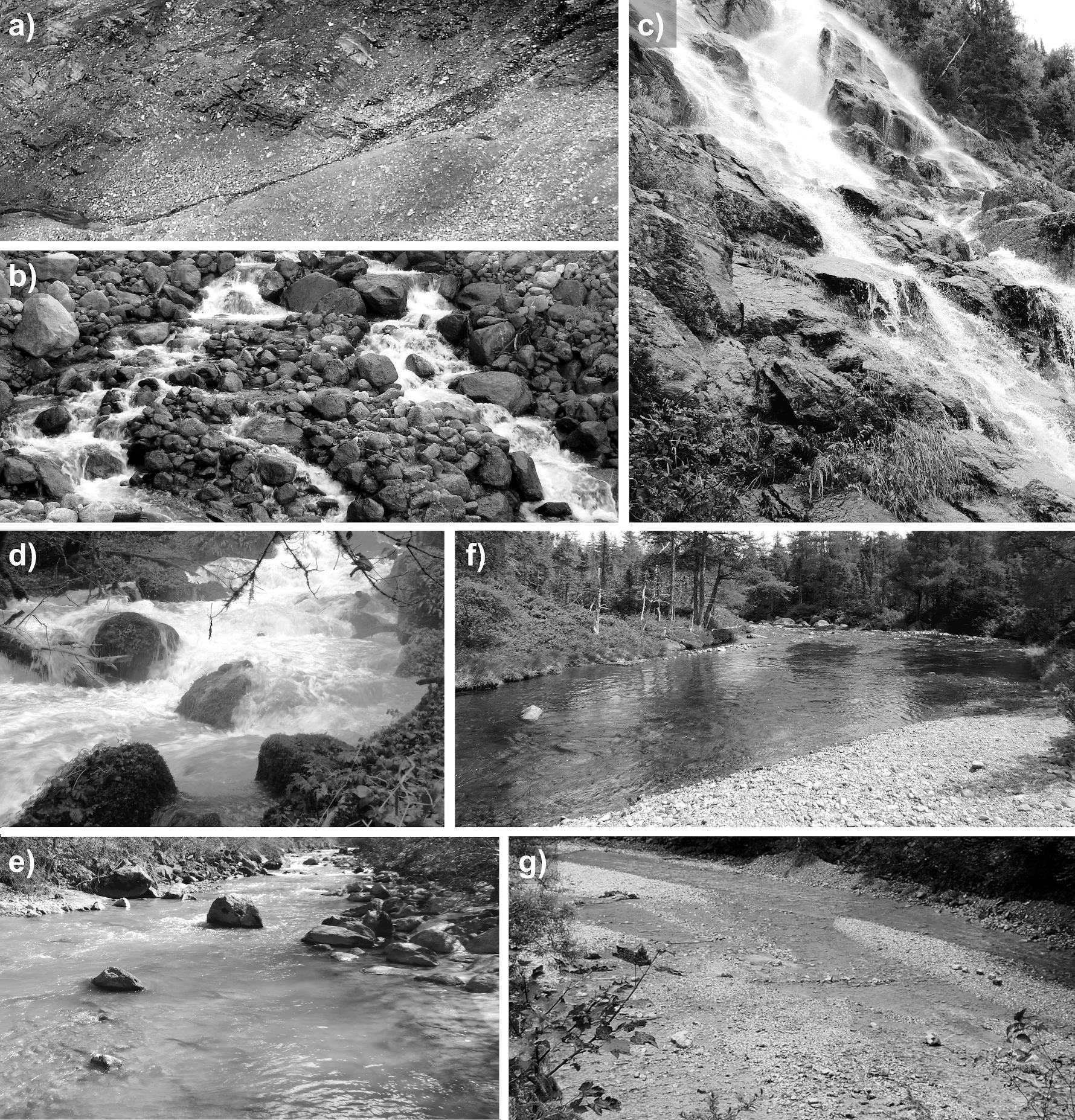 To guide restoration actions, experts often visually classify morphology units on-site, though some of them may also be distinguishable on aerial imagery. On-site (in-situ) expert assessments may also serve as ground truth for machine learning models. In this exercise, we will use hydrodynamic parameters with expert-based ground truth from the database https://bedloadweb.com. Thus, at the end of this tutorial, you may be able to reduce a necessary amount of fieldwork, just by using hydraulic parameters that can sometimes also be retrieved from gauging stations. To this end, we will train and test an SVM model that classifies morphological units as a function of data that can be collected in-situ or derived from aerial imagery.